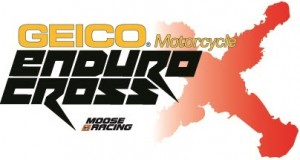 Irvine, CA. (September 25, 2015) – After a long summer break, the GEICO AMA EnduroCross series will return to action inside the Sleep Train Arena on Saturday night. The Schaefer Tracks crew gets only a few days to transform the basketball court into an insanely challenging EnduroCross course. Below are a few images from Thursday afternoon as the track was beginning to take shape.

Almost ready for Saturday night racing action
The stars of EnduroCross are anxious to get back to action so you can be sure that there will be an intense battle for the podium spots. RPM KTM's Cody Webb and Husqvarna's Colton Haaker are tied on points coming into the Northern California stop. Both were born and raised in NorCal so they will have plenty of family and friends in the stands cheering them on.

Mike Brown, Taylor Robert, and the Beta Factory team of Max Gerston and Kyle Redmond will be among the riders looking to knock the favorites off the podium and gain points.

And don't forget that EnduroCross includes a Women's class that is equally exciting along with classes for the Vet, Open Amateur and Trials riders. It will be a full night of awesome racing action.
The Schaefer Tracks crew still has a lot of work to be ready for Saturday night but you can see that the track is taking shape. 
The view from the opposite side of the Sleep Train Arena shows the dreaded Matrix and a turn full of tires that often prove to be extremely difficult. 
2015 GEICO AMA EnduroCross Championship Schedule
March 6, 2015 – Daytona Beach, Florida.  Ocean Center (Friday Daytona Bike Week)
March 21, 2015 – Salt Lake City, Utah.  Energy Solutions Arena
May 1, 2015 – Las Vegas, Nevada.  Orleans Arena (Friday – Supercross weekend)
June 5, 2015 – Austin, Texas.  X Games, Circuit of the Americas
September 26, 2015 – Sacramento, California.  Sleep Train Arena
October 3, 2015 – Denver, Colorado.  National Western Complex
October 17, 2015 – Everett, Washington.  XFINITY Arena
November 7, 2015 – Boise, Idaho.  Ford Idaho Center
November 20/21, 2015 – Ontario, California.  Citizens Business Bank Arena
Schedule is provisional.
For more information, please visit www.EnduroCross.com
EnduroCross tracks incorporate various elements of extreme off road racing into a Supercross-style setting, including rocks, boulders, logs, sand, mud, a water-hole…and even a few special obstacles like giant tires thrown in!  Known as the "toughest racing on two wheels," this indoor off road racing will certainly keep you on your feet.

ENDUROCROSS is a registered trademark of The Enthusiast Network.
For rules and race information visit www.EnduroCross.com or email endurocross@sorc.com

TEN: The Enthusiast Network is the world's premier network of enthusiast brands, such as MOTOR TREND, AUTOMOBILE, HOT ROD, SURFER, TRANSWORLD SKATEBOARDING, and GRINDTV. With more than 50 publications, 60 websites, 50 events, 1,000 branded products, the world's largest automotive VOD channel, and the world's largest action/adventure sports media platform, TEN inspires enthusiasts to pursue their passions. For more information, visit http://www.enthusiastnetwork.com.